October 25, 2017 – Lisa Miller, Bi-State Data/GIS Director, gave an overview of the newly updated data portal website, GreaterQCRegionData.org.
Staff worked with Far Reach Technologies, Inc. to give the website a new look and update its technology, including making it mobile-friendly, streamlining the data reports, and automating and expanding the data on the website.
The updated website features a simplified, dashboard-style home page design with an updated logo and website address (please note this if you've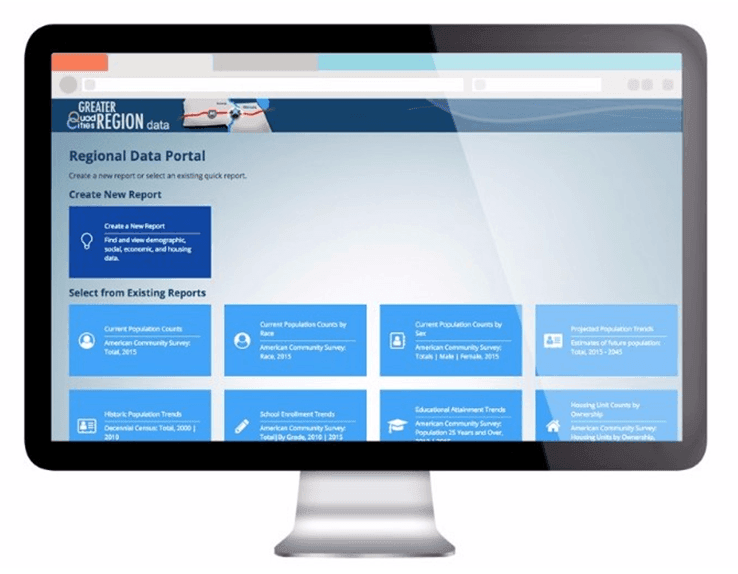 bookmarked the site.) Website users can easily access data about cities and counties in the region with one click on a data report. Reports are more graphical and are displayed in bar graphs and table format. The data can be exported as an image file to insert into documents and reports or as an Excel file.
In addition, the underlying technology was updated to a more current platform that's more flexible and supported by modern web browsers. Technology was implemented that allows staff to gather and update data for the website more automatically. Tools were created that allow Bi-State staff to quickly and easily create and update the data reports on the website.
Please visit GreaterQCRegionData.org. For questions or to provide your ideas and feedback on the data portal, contact Lisa Miller, This email address is being protected from spambots. You need JavaScript enabled to view it., 309-793-6302, ext. 133 or Mike Saponaro, This email address is being protected from spambots. You need JavaScript enabled to view it., 309-793-6302, ext. 131.