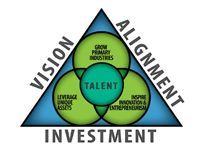 February 26, 2014 – Jerry Taylor, Dispatch-Argus Publisher, and Tara Barney, Quad Cities Chamber of Commerce President and CEO, provided an overview of a visioning effort involving over 100 businesses and investors in the greater Quad Cities Region. The Regional Opportunities Council has worked to assemble a regional vision for 2030 that identifies and advances opportunities for transformative growth in the greater Quad Cities Region.
The Greater Quad Cities Region is:
· recognized globally for growing and attracting talent and businesses
· energized by a culturally rich community
· inspiring innovation
· embracing lifelong learning
At the heart of the effort is the concept of fostering area talent. This would be accomplished by growing the area's primary industries, assets, and entrepreneurial opportunities through the comprehensive vision, alignment of messages, and investment in the community. Growing primary industries would focus on advanced manufacturing, agriculture, and logistics. Regional assets include a regional growth strategy, the Mississippi Riverfront, working river, infrastructure, and the Rock Island Arsenal.
The council suggests a three phase approach — organize a committee; endorse the effort to back the vision and align strategies to implement the vision; and demonstrate accomplishments. Following the presentation, comments and questions were addressed. Input included acknowledging the Mississippi River in the vision statement, defining the region geographically, and noting a regional freight study that is about to get underway.