May 28, 2014 – With the repairs and closure of the Centennial Bridge, traffic congestion is anticipated on the other inner city bridges, Government Bridge and I-74. Bridge repair includes two transverse beam replacements. Work will be from June 23 to October 1, 2014. Complete bridge closure is planned for up to 35 consecutive days (August 3 - September 5). There will be intermittent one lane, off peak-hour closures at times during prior/post bridge closure. Pedestrian and bicycle access will be available during Centennial Bridge construction.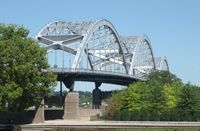 Residents and businesses in the metro area can help reduce congestion by:
· Postponing meetings around the closure period
· Holding meeting at the north and south ends of the Quad Cities, taking I-280 and I-80
· Giving extra time to get to work, meetings, and other events/activities
· Traveling during off-peak hour times by avoiding 6:30-8:30 a.m. and 3:00-5:30 p.m.
· Allowing more flexible schedules during the closure period for employees
· Checking daycare/childcare options for extended hours if parents/families run behind due to bridge travel
· Considering walking or bicycling. Park nearby and take the last leg of the trip by walking or bicycling via the Government Bridge or Centennial Bridge (anticipating access by pedestrians and bicyclists).
· Taking public transit to reduce the number of vehicles on the road. Note: CitiBus bridge line route is expected to be shifted to cross at the Government Bridge. However, this route would be subject to draw span openings due to barge traffic having the right-of-way.
· Tuning up vehicles and keep them fueled to prevent breakdowns on the other bridge crossings
Alternative modes of transportation, such as buses, carpools, water taxis, bicycling, or walking, are encouraged to help reduce traffic congestion and maintain good air quality. Residents and visitors can consider transit options by contacting Bettendorf Transit at (563) 344-4085, Davenport CitiBus at (563) 888-2151, or Metro at (309) 788-3360 or visiting www.qctransit.com.