July 23, 2014 – Commissioners received an update on the status of Quad Cities bridge restrictions for the current construction season. A report for the Mississippi and Rock River bridges was provided. The largest bridge construction concern is on the Centennial Bridge.
Two public open house meetings were held on June 11th, hosted by the Illinois Department of Transportation for the Centennial Bridge construction. To address concerns on both sides of the river, meetings were held at the Rock Island County Building and the Scott County Administration Building.
To date, Centennial Bridge closure began August 3 and runs through September 6. Prior and post closure, one lane restrictions off peak hour are possible through October 2014. Work on Fort Armstrong Avenue is expected to start after the Centennial Bridge closure. This project will affect cross river travel. Staff has been working with CitiBus and River Bend Transit and the Arsenal representatives to determine whether early notification of the Government Bridge swing span openings can be conveyed to the transit operators. Radio and internet options were made available.
During the Centennial Bridge closure, area residents are encouraged to: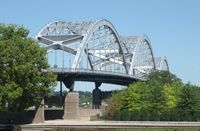 · Postpone meetings around the closure period or using teleconferences or webinars to reduce trips to meeting locations, or use internet 511ia.org to check traffic
· Hold meetings at the north and south ends of the Quad Cities, taking I-280 and I-80
· Give extra time to get to work, meetings and other events/activities
· Travel off peak hour times by avoiding 6:30 – 8:30 a.m. and 3:00 – 5:30 p.m.
· Allow more flexible schedules during the closure period for employees
· Check daycare/childcare options for extended hours if parents/family runs behind due to bridge travel
· Consider walking or bicycling. Park nearby and take the last leg of your trip by walking or bicycling via the Government Bridge or Centennial Bridge (anticipating access by pedestrians and bicyclists).