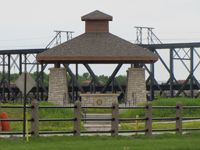 June 25, 2014 – Joe Taylor of the Quad Cities Convention and Visitors Bureau (QCCVB) described the Bureau and tourism's impact on the Quad Cities. The QCCVB is an accredited convention and visitors bureau funded by hotel/motel taxes from each municipality, state grants from both Illinois and Iowa, and membership dues from local businesses. Its board of directors includes seven representatives from the public sector and seven from the private sector. In 2012, incoming tourists spent $800 million on goods and services in the Quad Cities.
The Quad Cities Area represents an excellent location within driving distance from numerous major cities in the Midwest, providing close-to-home affordability for visitors. Tourism is on the rise in the Quad Cities, and hotel occupancy is reflecting that trend. There are 1,100 new hotel rooms planned, a 10% increase since 2012. The QCCVB is partnering with Henry and Mercer Counties to determine how best to promote and create a regional tourism product for the future.
Hannah Wilke of the Muscatine County Convention and Visitors Bureau detailed the economic impact of tourism and travel-generated expenditures on the economies of the State of Iowa and Muscatine County. Domestic travelers spent a total of $7.6 million in Iowa during 2012, which represents a 5.6% increase over the preceding year, outpacing the national average of 4.4%. In 2012 and 2013, hotel/motel tax receipts increased by 25% in Muscatine County.
Cathy Foes of the Henry County Tourism Bureau described the current state of tourism in Henry County. She stated that tourism provides a viable tool to use for economic development. The county has seen steady hotel construction. The hotel/motel tax has risen 5% in recent years. Rural recreation has the ability to appeal to current and potential future residents. Being an attractive place to visit also means being an attractive place to live.