August 27, 2014 – Andrew Fangman, City of Muscatine Planner, overviewed the Blue Zones Community Project underway. Blue Zones is an initiative sponsored by Wellmark Blue Cross and Blue Shield in collaboration with Healthways to increase positive, shared lifestyle characteristics that support community well-being. Blue Zones is based on research by Dan Buettner who cataloged areas of the world where residents lived well beyond 90 years of age. These "Blue Zones" were characterized by four lifestyle areas and nine power principles.
In 2013, the city was competitively selected to become a certified Blue Zones community. As part of the certification, the community has to fulfill several items: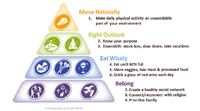 50% of the top-twenty identified worksites have become a designated Blue Zones Worksite
25% of schools have become a designated Blue Zones School
25% of restaurants have become a designated Blue Zones Restaurant
25% of grocery stores have become a designated Blue Zones Grocery Store
20% of citizens engaged in Blue Zones Project across the community
Successful completion of the Blue Zones Community Policy bundle
To date, Muscatine's successes include: a $5.3 million "Complete Streets" project; increased produce in a local grocery store; a community garden; 3 schools earning Blue Zones designation; 7 restaurants pledging healthy choice dining options; 4 restaurants with outdoor dining; increased volunteer hours; and 426 citizens joining a local walking group. The culmination of these efforts are expected to help citizens in Muscatine to live longer and healthier lives.