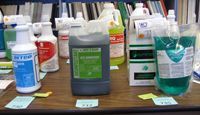 September 24, 2014 – Members of the Joint Purchasing Council (JPC) have saved thousands of dollars on commonly purchased products such as calendars, printer supplies, fine paper, municipal water treatment chemicals and utility supplies, marking paint, street signs and hardware, street sign posts, ice melt, turf chemicals, athletic field dressing items, various types of seed, janitorial paper products, cleaning supplies, personal hygiene items, garbage can liners, and food service supplies.
Currently, 32 governmental entities are members of JPC. Membership requires city or county board approval and signing of the intergovernmental agreement. Bi-State's membership dues fund agency staff time and bid materials needed by the program.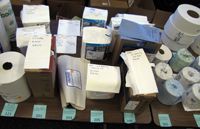 Patty Pearson and Peggi Merchie work directly with about 80 government staff from various departments within Bi-State local governments, and they maintain a database of about 275 vendors of products that are jointly purchased. They also develop bid specifications, coordinate the bid letting and opening, complete the bid analysis, and coordinate the actual sending of purchase orders to the awarded vendors. By doing this, the JPC program reduces duplicative administrative costs, such as advertising, postage and bid preparation and analysis for all bid participants. Vendors deliver all items as indicated on the purchase orders supplied by the participants. This reduces the need for local governments to "go shopping" for items and reduces fuel charges for them.
Bid prices are firm and all inclusive so there are no "surprise" fees added at the time of delivery. The JPC does not accept any of the delivery, freight, or deposit or fuel surcharges that are frequently added to invoices when an entity purchases products on its own. Participating in the bid process is simple for participants. For many bids, it only requires entering quantities needed on an order form, approving the bid results and creating a purchase order. Program participants share expertise and experience through participating in JPC meetings or special training sessions held with industry experts.
The following testimonials demonstrate the value of the Joint Purchasing Council:
"I see no reason for any community NOT to participate in JPC.…Last winter was a record for the number of water main breaks, so we went through 18 clamps. By participating in the JPC utility supplies bid, it saved us more than $3,000 just in the price of clamps.…We used to be charged a fee for delivery, minimum order, and a fuel surcharge, and since we were participating in JPC, we have saved more than $700 in overcharges." — City of Silvis
"The Joint Purchasing Council Program has been hidden jewel to our department. We have saved thousands of dollars since joining a few years ago. With the money saved, we have been able to conduct very necessary remodeling projects on areas of our downtown location. The time saved has been most instrumental to our Buildings & Grounds team because it has freed us up to take on additional projects instead of having to use it for multiple ordering and dealing with multiple vendors." — Rock Island Library Department
"The (JPC) is invaluable to my organization and me. Since I am the only person in "purchasing" in my organization, I rely on the Joint Purchasing Council for almost everything the group goes out for bid on. Not only is this a cost savings, but a time savings as well. Knowing that the items we purchase have already been competitively bid, not to mention following the state statues concerning purchasing, I know I am doing my job to the best of my ability and getting the "best bang for your buck" for the city." — City of Bettendorf
For more information on the program, please visit the Joint Purchasing Council website at http://bistateonline.org/2012-11-14-00-34-51/joint-purchasing-council.