February 25, 2015 – Amber Wood, the Executive Director of the American Red Cross serving the Quad Cities & West Central Illinois, reported on their Strategic Community Relationships Campaign. The objectives are to:
1. Ensure effective collaboration and efficient delivery of Red Cross emergency services in the Central and Southern Illinois Region during times of disaster by cultivating and nurturing relationships and mutual expectations with the key leaders in all 79 counties
2. Develop Long Term Recovery Plans in our region that nurture sustainability, service, and growth for the communities
The American Red Cross of Central and Southern Illinois has 6 offices spanning 79 counties in Illinois, Iowa, and Missouri and serves over 3 million people. Below is a map outlining the region: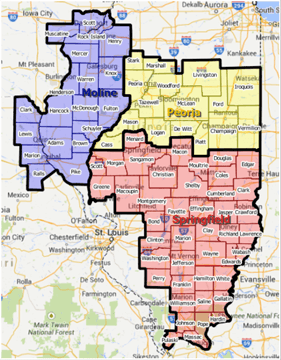 The approach for the campaign will involve meeting with sheriff's departments, county and local elected officials, and public health organizations to conduct surveys and determine the existing disaster services in the Central and Southern Illinois Region. The "Tool Kit," which includes the survey, was created following the Washington, Illinois tornados based on information that would have been helpful to have collected prior to the tornados. The information collected will help all organizations that aid in response and recovery understand each other's roles. The information collected would also be shared with key leader in every county such as schools, banks, and churches, and a master file would be created.
Ms. Wood will meet first with counties in the Bi-State Region and will begin with sharing the intent of the process with local government managers and administrators. The intent of Red Cross is to influence long term recovery using the Strategic Community Relationship Campaign. She emphasized that the core strength of Red Cross is to provide, through caring volunteers, an immediate first response after a disaster for people to receive free of charge, including food, shelter, clothing, assistance in refilling life-sustaining medication, and counseling services.