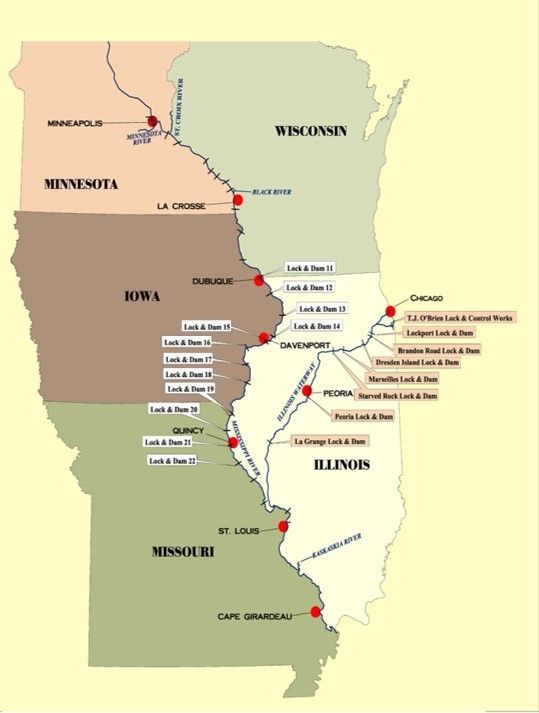 April 22, 2015 – Tom Heinhold, Deputy Chief, Operations Division at the U.S. Army Corps of Engineers (COE) – Rock Island District, spoke on the challenges and opportunities for maintaining and improving the infrastructure on the Mississippi River. On the 1,200 mile Mississippi River navigation system, there are 37 lock sites predominately built between 1930 and 1945. Aging and decaying infrastructure coupled with limited federal appropriations presents a number of challenges in maintaining this vital marine highway system.
The Upper Mississippi River (UMR) carries more than 600 million tons of cargo each year. With the completion of improvements to the Panama Canal in 2016/17, opportunities may be present to increase river navigation and move more products. Barge transportation is the least expensive mode for bulk commodities and the most green transportation option. Mr. Heinhold cited the cost savings for industry as $23.74 per ton for traffic moving through the UMR.
U.S. Inland Waterway Trust Fund supports a portion of the system. In 2014, the navigation fuel tax was raised from $0.20 to $0.29 per gallon. The last increase was in 1984. Mr. Heinhold explained there are three main pro
grams to fund projects – operation and maintenance, major rehabilitation, and future improvements. Only operations and maintenance has been funded but not to its fullest extent.
Mr. Heinhold noted upcoming work on the river navigation system, as well as spoke of the backlog of projects. Work in FFY 2015-16 includes:
Lock 9 winter 2016 dewatering
Lock 13 winter 2016 dewatering
Locks 14-17 bulkhead recesses FY 15-16
Lock 21 winter 2016 dewatering
Locks 12, 14, 15 Miter Gates FY 15-16
Dam 18 Concrete Repairs FY16
Lock 15 and 21 Guidewall Repairs FY16
The result of delayed maintenance and new project implementation affects system reliability and contributes to congestion within the river navigation system. This will be further strained when improvements to the Panama Canal increase demand to transport agricultural projects from the Midwest to foreign ports. However, the Water Resources Reform and Development Act (June 2014) made provisions to allow public-private partnerships (P3). P3s may encourage more innovative partnerships and solutions to the nation's navigation system. Mr. Heinhold concluded the presentation emphasizing the need for recognizing the value and opportunities of the inland waterway system.