August 24, 2016 – Tim Frye with the Rock Island Arsenal Development Group (RIADG) reported to the Commission on the Arsenal Support Program Initiative (ASPI). Rock Island Arsenal Development Group is a not-for-profit 501(C)6 incorporated in July 2003. They received a facility use contract in September 2003 and hired one full-time and two part-time employees in 2004. The RIADG Board of Directors is made up of elected officials and community leaders from both Iowa and Illinois.
The Quad Cities community hired a Washington lobbyist as a result of BRAC 1995 to address lack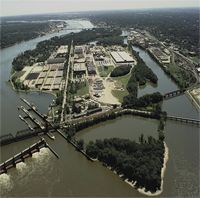 of factory work resulting in high overhead on Arsenal Island. Hurt Norton and Associates was hired in 1998 by the Quad Cities Development Group to lobby for all aspects of Arsenal Island (funding for Unutilized Plant Capacity, funding for the Davenport bridge, and funding for military construction). Based on the ammo plants legislation, Hurt Norton wrote the ASPI legislation that was passed in 2001.
Rock Island Arsenal is one of three sites that used ASPI legislation, which has provided dollars to renovate facilities to lease to commercial tenants. The program received earmarks thru 2010. Six buildings amounting to over 325,000 square feet of space were renovated. The updated space was rented to 23 tenants desiring the security of and proximity to the Arsenal. Over $6.29 million in rent has been paid to the Army over the life of the program.
The ASPI legislation expired in October 2012, but RIADG was awarded a 5-year contract before the legislation expired. This means RIADG's current facility use contract expires in September 2017. In FY15, Representative Loebsack tried to get an extension into the House's National Defense Authorization Act (NDAA), but staff objected, and it didn't survive. In FY16, Congress tried to extend the ASPI authority, but the movement didn't survive due to bad scoring recommendations by the Congressional Budget Office. An amendment to extend RIADG's efforts was all agreed to in the Senate, but the Senate Armed Services Committee decided to move their bill without approving these agreed to amendments. The IA/IL Congressional delegation is looking at ways to revive RIADG's legislative authority either in the NDAA or in the appropriations process. Without new legislation by September 2016, it is not clear what will happen to the existing RIADG leases.