October 26, 2016 – Bi-State Regional Commission celebrated its 50th Anniversary of being a planning agency on October 26, 2016 at Camden Centre in Milan Illinois. Randy Blankenhorn, Secretary of the Illinois Department of Transportation and Paul Trombino, Director of the Iowa Department of Transportation presented information on the importance of Metropolitan Planning Organizations like Bi-State in the development of the transportation system and on the future automation of people and freight travel.
Over 160 officials attended representing local governments, not-for-profits, and economic development from the five-county region.
The Bi-State Metropolitan Planning Commission, now known as Bi-State Regional Commission, was formed in 1966 to respond to the need for transportation planning across state lines. The mission of the Bi-State Regional Commission has remained the same since its inception, to provide direct technical service to member governments and to facilitate their joint efforts.
The Bi-State Regional Commission serves as a forum for cooperation, with a complex service area of two states, five counties, and over 40 member municipalities. Bi-State's cooperative processes have inspired others to model the Bi-State Region with programs such as joint purchasing, and significant progress toward transportation projects such as the I-74 Corridor and interactive trail website, QCTrails.org. East Moline Mayor John Thodos, Chair of the Bi-State Regional Commission, urged continued collective commitment to regionalism and collaboration.
Historical Population and Employment in the Bi-State Region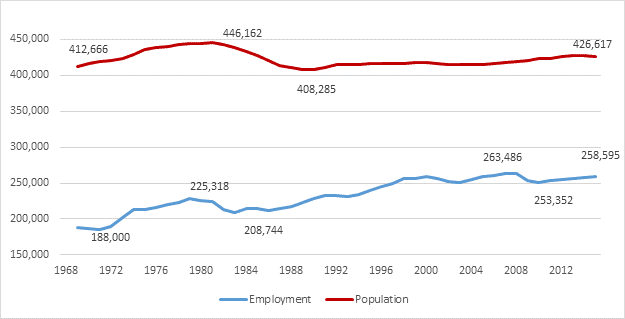 Source: The Regional Economic Analysis Project (REAP). Data provided by the U.S. Department of Commerce, Bureau of Economic Analysis.