November 16, 2016 – David Gobin, Muscatine Director of Planning and Community Development, spoke on efforts by the City of Muscatine and local private partners to examine the feasibility of an intermodal container port in Muscatine, Iowa. There are no intermodal container facilities on the upper Mississippi River north of St. Louis to date. With many of the containerized ports on the coasts, and potential increasing opportunities for containerized shipping on the Mississippi River, the idea came about as part of Muscatine's participation in both statewide freight plan development and a commodity optimization study by Iowa Department of Transportation (IADOT) and Iowa Department of Economic Development.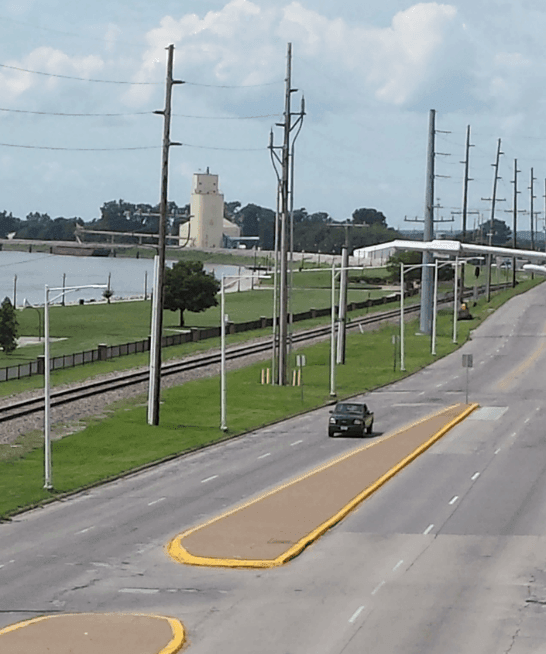 Mr. Gobin stated that following the state planning efforts, IADOT identified $2.6 million in funds for a pilot freight grant program, Linking Iowa's Freight System (LIFTS). The program purpose is to improve multimodal freight transportation to meet changing demands for shipping products. The City of Muscatine secured $80,000 of LIFTS funding and $20,000 in public/private partner matching funds to conduct a feasibility study for the port idea.
The city has contracted with a consulting firm to look at a regional interconnection among water, road, and rail. Mr. Gobin noted that rail will be the driver of the effort. The study will identify primary needs in an area south of the downtown to examine the feasibility of constructing an intermodal containerized port. Project elements include refining the purpose and approach; collecting data; forecasting containerized cargo flows; assessing transload opportunities and potential shippers; outlining the concept and layout for an inland waterway intermodal terminal; accessing capital and operating costs; and assessing potential funding sources. Governance structure will also be part of the recommendations. It is anticipated that if feasible, the facility would initially operate seasonally with the potential to shift to year-round. The key outcome of the study is whether the investment will be justified. The feasibility study is expected to be completed within three months.