Study Purpose and Goals
The Iowa Quad Cities Transit Alternatives Analysis Study identified and explored potential options to improve mobility and increase transit ridership in the Iowa Quad Cities. The goals of the analysis were:
Examine the existing and future conditions in the Quad City Area
Incorporate residents, employees and business concerns in the decision-making process
Consider a full range of transit alternatives that would best respond to the problems and concerns of the Quad City Area.
Purpose and Need
Unlike larger metropolitan areas, such as Chicago or St. Louis, congestion in the Quad Cities metropolitan area with a population of approximately 300,000 tends to be localized and is often caused by construction, crashes or inclement weather. One exception is at three inner-city Mississippi River crossings − U.S.67/Centennial Bridge, Government Bridge at the Rock Island Arsenal and I-74 Bridge – where recurring congestion occurs during peak hour travel. There are outlying activity centers in the metropolitan area that also experience recurring congestion. It is within many of these Iowa Quad Cities busy activity areas, such as the two central business districts with riverboat casinos, two regional malls, two medical centers and 53rd Street/Avenue and Elmore Avenue retail/entertainment corridor, that mobility for the two fixed route transit systems is impeded.

The purpose of the proposed study is to identify and examine alternatives for providing public transit service within the Iowa Quad Cities, considering connections to the Illinois Quad Cities, in order to accommodate improved flow of transit service between the Cities of Davenport and Bettendorf, and the Illinois Quad Cities. The goal is to facilitate better mobility and increased ridership in the metropolitan area thus aiding congestion reduction. The study was completed in July 2006.
Final Report and Appendices 2006
pdf Final Report.pdf (13.36 MB)
July 2006 Iowa Quad Cities Transit Alternative Analysis Study Final Report
pdf Appendix A Public Meetings.pdf (2.53 MB)
pdf Appendix B Existing Transit Conditions.pdf (2.09 MB)
pdf Appendix C Purpose & Need.pdf (7.02 MB)
pdf Appendix D Definition of Alternatives.pdf (12.1 MB)
pdf Appendix E Evaluation of Alternatives.pdf (14.23 MB)
pdf Appendix F Funding Alternatives.pdf (7.66 MB)
pdf Appendix G RTD.pdf (186.57 kB)
pdf QUADCITYNEWSFINAL.pdf (6.85 MB)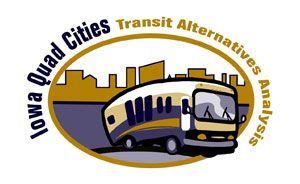 For Bus routing and schedule information, contact your local transit provider: Davenport CitiBus: 563.888.2151 and Bettendorf Transit: 563.344.4085 or MetroLINK: 309.788-3360.

Study Participants
The Cities of Davenport and Bettendorf entered into an intergovernmental agreement to conduct the Study in 2004. Through a Federal Transit Administration (FTA) New Starts Program grant, the Cities worked with URS Corporation to complete the study. Bi-State Regional Commission managed the consultant contracts. The sources of funding for the study were 80% from Federal FY2002 Section 5309 New Starts Planning Funds and 20% from local dollars divided among the Cities.


Study Executive Committee
The study was directed by a Study Executive Committee (SEC) comprised of elected officials of the Cities of Davenport and Bettendorf, including both mayors and a city council representative from each community.

Study Technical Committee
The Davenport Public Works Director, Davenport Transit Manager, Bettendorf Public Works Director, Bettendorf Transit Manager, Iowa Department of Transportation-Office of Public Transit and Federal Transit Administration-Region 7 (an ex-officio, non-voting representative acting as a resource and providing guidance on FTA technical requirements), identified as the SEC Technical Committee, advised the SEC on consultant selection and negotiation of a detailed scope of work.

Study Advisory Committee
The SEC appointed a Study Advisory Committee (SAC) to advise the SEC on milestones, technical details and results of the study, and conduct the process in compliance with federally funded procedures. The SAC was comprised of public works and transit representatives from the Cities of Davenport and Bettendorf, other area transit representatives, chamber and industry development representatives, railroad representatives, Iowa Department of Transportation and FTA-Region 7. The SAC representatives conveyed project information to the SEC, as needed.