A status report by the Illinois Department of Transportation on implementing passenger rail service from Chicago to Quad Cities was given by Joe Shacter, Director of Public and Intermodal Transportation. He provided an update based on the status of engineering to date. Phase I of the effort is 79 mph service with two round trips daily (four trains per day) between Chicago and the Quad Cities. Intermediate stops are planned for La Grange, Naperville, Plano, Mendota, Princeton and Geneseo. Phase II is the extension of that service to Iowa City which will depend on how the State of Iowa proceeds.
Mr. Shacter reiterated that Phase I - Chicago to Quad Cities has 30% engineering completed and procurement of rolling stock is underway as well as establishing construction, maintenance and service agreements between the appropriate responsible parties. Key project partners include the Federal Railroad Administration, Amtrak, Burlington Northern Santa Fe (BNSF) and Illinois Commerce Commission, among some of the stakeholders. The DOT is working with the ICC on rail signals and gates at crossing. Analysis also includes structure and rail diagnostics for determine existing conditions. Additional efforts to develop stations in Geneseo and Moline are in progress.
In 2010, both DOTs submitted a grant to the Federal Railroad Administration and were awarded $230 million. Of this, $177 million has been committed to Illinois for Phase I and $53 million has been committed to Iowa for Phase II. Based on the revised costs, it is anticipated that Illinois will need $78 million to match the project, up from $45 million. A layover facility will need to be included in the Illinois project since there has been no decision to move forward by Iowa. Between Rock Island and Silvis, a second mainline is being added as well as other sidings, signaling and positive train control.
Mr. Shacter indicated that the project completion goal is late 2015. The ILDOT will have a more definitive timeline within a few months. The presentation was followed by comments and questions by Commissioners.
William Takakoshi with Hurt, Norton & Associates, Inc. presented information on legislative efforts and issues related to the Rock Island Arsenal. Hurt, Norton has been working for the Quad Cities Area on Arsenal issues since 1998 and has assisted with many legislative issues amounting to over $100 million in accomplishments.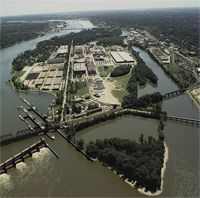 Mr. Takakoshi recommended thanking the legislators that serve the Bi-State Region and their staff for the items that support the Arsenal in the FY 2014 Omnibus appropriations bill and the FY 2014 National Defense Authorization Act(NDAA). The knowledge of funding levels over 2014 ($520 billion) and 2015 ($521 billion) allows the Department of Defense to plan as opposed to dealing with continuing resolutions. In addition, $150 million was provided for Industrial Mobilization Capacity for arsenals in the United States. However, a 20% cut to all Army headquarters was announced months ago. It is not known what will make up the 20% cut, but likely all segments of the Army will be touched, and these cuts will impact employment on the island.
He emphasized the importance of Senator Durbin's position as Chairman of the Senate Defense Subcommittee. This position has been key historically in the Pentagon, and the senator's knowledge of the Arsenal will be helpful. He noted Congressman Loebsack is on the House Armed Services Committee. Representative Frelinghuysen of New Jersey was recently appointed Chairman of the House Defense Subcommittee. Representative Frelinghuysen represents Picatinny, New Jersey and has been a champion of the Picatinny Arsenal. This change makes Senator Durbin's position even more important to balance Department of Defense decisions.
The Arsenal Support Program Initiative(ASPI) promotes the commercial use of underutilized capacity at arsenal facilities by partnering with private sector partners. The program is sunsetting so companion language is needed to maintain the existing partnerships leasing space on the Arsenal. He also noted the Rock Island Arsenal Joint Manufacturing & Technology Center is important to protecting the Island from Base Realignment and Closure (BRAC) because the factory would be difficult to move to another location. However, he does not believe a BRAC will occur until 2017 following the 2016 presidential election.
Plans are moving forward for the acquisition of GIS-quality digital aerial photos and other products across the Bi-State Region in the spring of this year. Staff have been working with local jurisdictions to coordinate coverage areas and products in this joint effort. Consortium members have selected Kucera International, out of Willoughby, OH to provide aerial mapping services for the project. Participants include: (IA) Clinton, Mercer, Muscatine & Scott Counties and (IL) Henry County and the cities of Aledo, Carbon Cliff, Coal Valley, East Moline, Milan, Moline, Port Byron, Rock Island, and Silvis. Products include digital color orthophotography, LiDAR, digital elevation models, digital terrain models, contours, and planimetric mapping. Staff coordinated similar multi-jurisdictional efforts in 2005 and 2009. Participants anticipate a 25–40% cost savings by coordinating the flight and purchasing aerial products together.
Watch the sky for the planes collecting imagery. They'll be in the air between mid-March and mid-April, when the snow has melted, there is no flooding, and no leaf cover. Think spring! For more information, contact Lisa Miller, Data/GIS Director at 309.793.6302, ext. 133 or This email address is being protected from spambots. You need JavaScript enabled to view it. .
Illinois Public Acts 97-905 and 98-109 were passed in 2012 and 2013 by the Illinois General Assembly. These laws combine to make significant changes to the way enterprise zones are awarded and administrated in Illinois. Enterprise zones were first established in Illinois in 1983 to stimulate economic growth by providing tax incentives and regulatory relief to businesses opening or expanding in specially designated areas. To date, 97 enterprise zones have been authorized by the State of Illinois.
Some of the key changes under the new law include:
· Changing of deadlines for filing zone applications
· Creation of 10 specific zone qualification criteria
· Establishment of fee caps
· Creation of a statewide Enterprise Zone Board to approve or deny all applications
The laws still limit the total number of zones to 97, but as deadlines approach for existing zones to expire, cities and counties may apply for a new area or the same area as previously covered. The Department of Commerce and Economic Opportunity (DCEO) will review all applications for statutory compliance, but the Enterprise Zone Board makes the final decision on the awarding or denial of applications.
In the Illinois portion of the Bi-State Region, there are three existing Enterprise Zones:
· Kewanee (expires 2018)
· Quad Cities (expires 2018)
· Rock Island (expires 2014)
This article provides general information about changes to the Illinois Enterprise Zone Program. Local governments should seek clarification on all related matters from DECO by contacting G. Allen Mayer, Deputy General Counsel at This email address is being protected from spambots. You need JavaScript enabled to view it. or (217) 524-6493.
The 2014 Illinois Community Development Assistance Program (CDAP) grant application due dates for competitive programs have been pushed back toApril 4, 2014 (from February). This is due to a delay in U.S. Department of Housing and Urban Development (HUD)'s approval of the Illinois Consolidated Plan.
CDAP is a grant program funded through HUD that assists Illinois communities by providing grants to local governments to help them in financing economic development projects, public facilities, and housing rehabilitation. The program is targeted to assist low-to-moderate income persons. Those eligible to apply are units of general local government such as cities, villages, townships, and counties. Local governments must have populations of 50,000 or less and must not be located in the 38 cities that receive federal "entitlement" funds. Moline and Rock Island, Illinois are entitlement cities in the Bi-State Region. Communities must meet the 51% LMI for their project area (which can be the community or specified area).
Past examples of CDAP projects in the Bi-State Region have been new or extensions to sanitary sewer systems, new or extensions to water systems, and engineering design work. More information about CDAP can be found at: www.illinoisbiz.biz/dceo/Bureaus/Community_Development/Grants/CDAP.htm Those communities interested in applying for the 2014 grant cycle are encouraged to start soon.
For more information or to apply for a CDAP, contact Gena McCullough, Planning Director (This email address is being protected from spambots. You need JavaScript enabled to view it. or 309-793-6302 ext. 146) or Meghan Overton, Planner (This email address is being protected from spambots. You need JavaScript enabled to view it. or 309-793-6302 ext. 126).
The Quad City Riverfront Council (QCRFC) was created in 1985 by local elected officials in the Quad Cities through the Bi-State Regional Commission (BSRC). The Riverfront Council is a coordinating body for riverfront planning for the purpose of encouraging and promoting riverfront development. Membership was extended to the Bi-State Region in 1999.

The Riverfront Council provides an opportunity for coordination and communication of ideas among Bi-State Region representatives from both the public and private sectors on issues pertaining to our riverfronts. In addition, the Council exchanges information on community planning, industrial and commercial development, recreational amenities and aesthetic enhancements of area waterfronts. In 1996, BSRC in partnership with member government planners, local stakeholders, River Action Inc., and the Lakota Group developed the Mississippi River Corridor Design Principles. This document provided design suggestions and underpinning principles for river access, signage and graphics, landscaping, riverfront art and resource enhancement. These principles still guide development today.

Riverfront development in the region has incorporated a wide range of project types including recreation, conservation, residential, commercial, and industrial uses. Members exchange information on community planning, current and proposed projects, commercial development, and aesthetic enhancement of our region's shorelines at bimonthly meetings. Riverfront Council members include chief elected officials/appointees, Convention and Visitors Bureau, Chambers of Commerce, Rock Island Arsenal, U.S. Army Corps of Engineers, River Action, and Mississippi River Parkway Commission.

Riverfront trails and their spurs are one of the key indicators of progress and include extensions of the Mississippi River and American Discovery Trails in Bettendorf, Davenport, Muscatine, and Riverdale; the Grand Illinois, Rock River, Kiwanis, and Hennepin Canal Trails in the Illinois Quad Cities and Henry County; creek contributory connecting trails in the Iowa Quad Cities and Muscatine; the historic Cody Trail through LeClaire, Princeton, Eldridge, and Long Grove; and many others.

Riverfront planning and development has progressed within each jurisdiction including various projects completed, planned and underway including the following projects/plans:

• River Heritage Park at First Crossing
• Botanical Center Children's Garden
• Rock Island Multi-Use Transit Facility
• Metro Link Maintenance Center
• Rock Island Transient Docking Facility
• Modern Woodman Park Ferris Wheel
• Credit Island Battlefield Protection Project
• Credit Island Lodge
• Dock Restaurant Redevelopment
• Quad City Amtrak/MultiModal Station
• RiverBend Commons
• Sylvan Bridge Improvement
• I-74 Trail Bridge and Observation Area
• Will B. Rolling Art Port Byron
• Water Features Parks in Dav., Mol., Musc., and Rock Island

Today, over 25 years following its formation, the Riverfront Council envisions the Bi-State Region's river corridors, rivers and riverfronts, to be vital, distinctive and accessible, coordinated in their use, integrated in design, and cared for by all of us.