May 16, 2016 – The Iowa Department of Transportation will be accepting applications through July 1, 2016 for the State Recreational Trails (SRT) Program for State Fiscal Year 2017 (SFY 2017). A total of $2.5 million will be available to be awarded. A local match of 25% is required for awarded projects. Any local government agency, municipal corporation, county or nonprofit organization is eligible to apply. More information, including the application form and instructions, can be found on the Iowa DOT's webpage.
April 27, 2016 – Mark Bechtel, Federal Transit Administration (FTA) – Region 7, reported that as result of the 2016 federal cooperative review of the Quad Cities metropolitan transportation planning process held April 26-27, there would be no corrective actions recommended, meaning staff are meeting expectations. He also mentioned some commendations, as best practices in FTA-Region 7.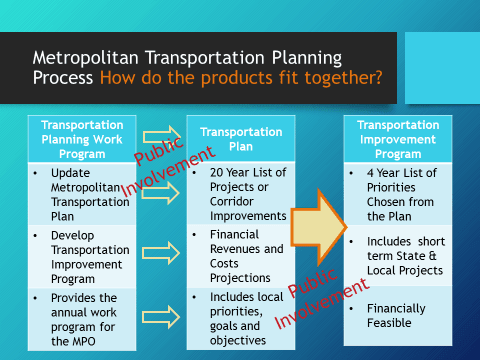 The review is conducted every four years as a requirement of the Metropolitan Planning section of the federal transportation act and as an obligation for receiving federal funds. The review team included both Illinois and Iowa representatives from Federal Highway Administration (FHWA) and the state Departments of Transportation (DOTs) as well as FTA. A public hearing was held Tuesday, April 26, 2016 at the Quad Cities Transportation Policy Committee meeting to receive comments related to the effectiveness of multi-modal transportation planning activities by Bi-State Regional Commission.
April 27, 2016 – Prior to the Bi-State Regional Commission agency budgeting process, staff annually prepare the Transportation Planning Work Programs (TPWP) for the Quad Cities metropolitan planning area (MPA) and Region 9, serving rural Scott County and Muscatine County. The TPWPs reflect staff work tasks/activities for the upcoming fiscal year, and include budgets for transportation planning short and long-range activities, delineating federal, state, and local planning funds. Activities include staffing transportation meetings, technical assistance, such as grant writing and traffic or trail studies/analysis, as well as the development of various modal plans and transportation funding programming.
The transportation planning effort for metro transportation planning amounts to $789,630, along with some additional planning studies and transit planning, in the urban area and $62,061 in Region 9. The Commission approved resolutions to authorize application of the federal planning grants, assurance of match and execution of the respective grant agreements. The Region 9 program utilizes $10,000 in local Surface Transportation Program (STP) funds to support the planning effort.
April 27, 2016 – Denise Bulat, Executive Director, noted the final draft of the full, five-year Bi-State Region Comprehensive Economic Development Strategy (CEDS) 2016 had been distributed in late March to Commissioners for review and provided to the public on the Bi-State website. Minor comments were received through the 30-day review regarding economic development related projects completed in FY 2016 and noted in the projects list. Commissioners approved a resolution to adopt the 2016 CEDS, and the report was submitted to the Economic Development Administration.
April 27, 2016 –National Association of Development Organizations (NADO) named Bi-State Regional Commission the winner of two 2016 Excellence in Regional Transportation Awards for their work on the Bi-State Regional Freight Commodity Study and with the Be Healthy QC Partnership. These projects will be honored at a special networking reception at the 2016 National Regional Transportation Conference June 13-15 in Chattanooga, Tennessee.
April 27, 2016 – On April 13, 2016, Bi-State Regional Commission Executive Director Denise Bulat was elected to the National Association of Development Organizations (NADO) 2016-2018 Board of Directors. This two-year term begins May 1, 2016 and runs through April 30, 2018. NADO serves 540 regional development organizations by providing advocacy, education, research, and training. The Board of Directors oversees NADO's budget and operations and develops policy for its members.
April 27, 2016 – Since its inception in 1966, Bi-State has had two names. At its first meeting on October 19, 1966, the newly-formed board opened business as the Bi-State Metropolitan Planning Commission. At that meeting, the first slate of officers was elected: Richard LeBuhn as Chairman, Howard Reisman as Vice Chairman, George Havercamp as Secretary, and N. Layne McGehee as Treasurer. The first executive director was William Luhman.
At the November 28, 1990 meeting, the board under Executive Director Gary Vallem voted to change Bi-State Metropolitan Planning Commission to Bi-State Regional Commission. According to the minutes of that meeting, it was felt that the terms "metropolitan" and "planning" were no longer appropriate as Bi-State's geographical service area was larger than the metropolitan area, and planning contributed to roughly 25% of the agency's services. Whatever you call it, Bi-State will celebrate its 50 years of supporting regional cooperation on October 26, 2016 in place of the monthly meeting. Details on the event will be made available at a later date.