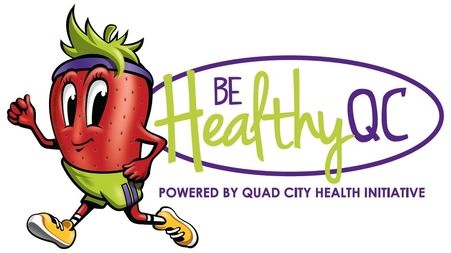 The Quad City Health Initiative (QCHI) was formed in 1999 and a cross-community partnerships to create a healthy community. The 2021 Vision states: "The Quad Cities region is united as one vibrant, diverse, collaborative community with engaged citizens, safe, thriving neighborhoods, and equitable and inclusive access and opportunities for overall health and social well-being."
Occurring every 3 years and dating back to 2002, a systematic, data-driven assessment of health status, behaviors, and needs is conducted in Muscatine, Scott, and Rock Island Counties to provide a barometer on residents' health and wellness. Partners work together to coordinate the assessments that meet the reporting requirements of the health systems and also encompass the 5-year assessment planning cycles of the health departments. The assessment results lead to health improvement plans and actions.
Areas that showed some improvement from the prior assessment were: cancer death rates, health insurance coverage, routine medical care, specific source of ongoing care, health literacy, cardiovascular risk factors; prenatal care in first trimester; seeking help for mental illness; child/adolescent mental health treatment; dental insurance coverage; flu/pneumonia vaccination in older adults; perceived ease of obtaining substance abuse services; cigarette smoking and smoking inside homes. Areas of opportunity included: access to health care services, cancer, diabetes, heart disease and stroke, housing, infant health and family planning, injury and violence, kidney disease, mental health, nutrition/physical activity/weight, oral health, respiratory disease, and substance abuse.
Major themes were identified from focus groups as part of the assessment. These included the pandemic, social determinants of health, mental health, stigma, diversity/cultural competency/sensitivity/trust, and need for growth of local healthcare workforce/more specialists.
QCHI engages a variety of sectors across organizational and geographic boundaries to improve community health. Efforts include a partnership with Tobacco-Free QC to address reducing the impact of tobacco in the Quad Cities. Information on tobacco, second-hand smoke, tobacco-free policies, and smoke-free pledges are part of the outreach effort. In collaboration with St. Ambrose's Institute for Person-Centered Care, QCHI is a partner along with area health systems as the Institute provides for continuing education and support and leadership to foster person-centered models of care. There is also a partnership with Live Lead Free QC initiative to raise awareness and reduce lead-based paint in area housing.
Be Healthy QC is a working group of QCHI and helps provide opportunities to increase physical activity and healthy eating. Be Healthy QC has supported workplace wellness initiatives, promotion of www.QCTrails.org, an educational campaign, and information sharing on access to healthy foods. The QCTrails interactive website has expanded to include trails in Henry and Muscatine Counties.
The Behavioral Health Coalition is a group of 50 community partners convened in April 2019 to support community behavioral health in Scott and Rock Island Counties. Currently the coalition list includes over 130 individuals. A primary function of the coalition is to promote awareness and to tell the community story related to behavioral health. Other functions include measuring coalition progress, providing a platform for innovation, and increasing resources. The coalition includes representatives from mental health, health care, public health, education, business, law enforcement, social services, the VA, philanthropy, emergency medical services, and local governments. The coalition formed a steering committee and includes promotion, outcomes, innovation, and funding/resources teams. They hold quarterly education sessions and their next session will be on May 12th at noon discussing suicide reduction and SAVE training. More information can be found on their Facebook Page facebook.com/QCBHC/.
The Quad Cities Zero Suicide Initiative has identified ways everyone can help the initiative by:
Making It OK to talk about mental health and suicide
Following the QCBHC on Facebook and share published resources facebook.com/QCBHC
Identifying how your organization can participate in the Zero Suicide project – there are three tiers or levels of participation based on the type of work you do
Participating in suicide prevention training (when launched)
Helping to connect the coalition to sources of funding