Data Clearinghouse – The Bi-State Data Clearinghouse is an inventory of Census Data Profiles with interactive and exportable data graphics for all our member governments.
These Data Profiles stem from the U.S. Census Bureau's interactive website.
These Data Profiles have the most frequently requested social, economic, housing, and demographic data. The data profiles summarize the data for a single geographic area, both numbers and percent, to cover the most basic data on all topics. For example, the screenshot below shows the data profile for Alpha Village, Illinois, with includes a map of the area, quick facts for the village, and downloadable data graphics on:
Population and People
Income and Poverty
Education
Employment
Housing
Health
Families and Living Arrangements
Race and Ethnicity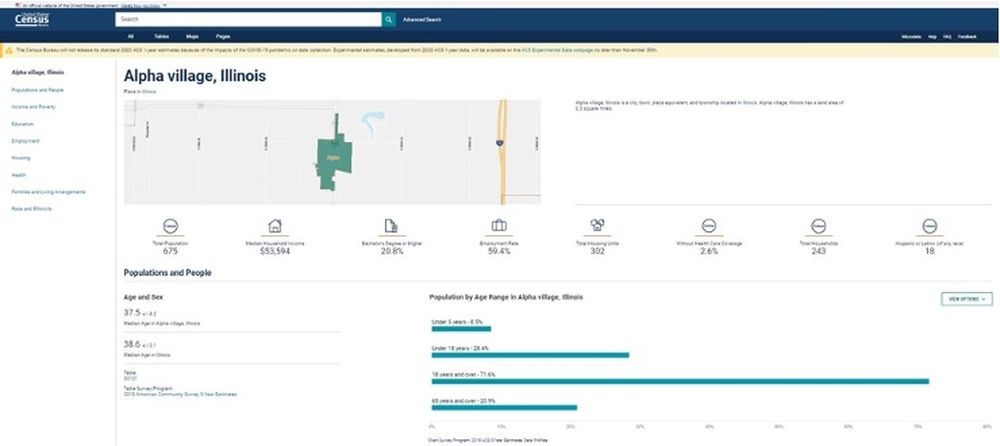 The hyperlinks below redirect to the Census Bureau's current data profile for our member governments, as well as data on the metro, state, and national level. Please note that some of the links may not work with Internet Explorer.
DAVENPORT-MOLINE-ROCK ISLAND, IA-IL MSA Social Characteristics
DAVENPORT-MOLINE-ROCK ISLAND, IA-IL MSA Economic Characteristics
DAVENPORT-MOLINE-ROCK ISLAND, IA-IL MSA Housing Characteristics
DAVENPORT-MOLINE-ROCK ISLAND, IA-IL MSA Demographic Characteristics